Economic Recovery Resources
860 N. Rio Vista Rd.,
Socorro, TX 79927
Monday – Friday
8:00 AM – 5:00 PM







The West Texas region is known for its mild climate and is poised for rapid growth. This region enjoys the beautiful desert mountains and great sunsets. Socorro is primed to capitalize on the growth given its strategic location on the US-Mexico border, three miles from the Ysleta Port of Entry, and access with coast-to-coast trade.
Socorro is located off I-10, and State Highway 20 (Alameda Ave.) within the El Paso metro area. It is perfectly situated as a distribution hub. 70% of the United States population is accessible within 48 hours of Socorro via highway travel! In addition, Alameda Ave. and the new Nuevo Hueco Tanks Rd. provide redundant access to major distribution centers assuring the business community of uninterrupted logistics systems. Socorro is the fastest growing city in El Paso County, growing by over 5 % in the last four years. It is in El Paso County and is the second-largest city with over 34,300 residents within the El Paso metro of over 865,000.
Socorro is a business-friendly community that encourages companies to relocate and thrive here! The low cost of living with a comfortable lifestyle encourages employees to make their homes here.
Socorro offers shovel-ready sites at the new Socorro Logistics Center, Quality of Place in the historic mission valley, and affordable housing in its new subdivisions off Nuevo Hueco Tanks Rd. The city is ripe for bed and breakfast, mid-tier hotels, and retail development along its fast-growing corridors. Incentives are available for key industries. Site selectors should contact the Economic Recovery Coordinator for assistance.
CURRENT Assistance Programs
Entrepreneur and Small Business Regulatory Assistance Program (ESBRA)
The ESBRA Program provides financial assistance to small businesses located in Socorro to help pay for local, County, and State permits or fees required to keep your business in operation. The ESBRA Program can reimburse up to $2,000 in County or State permit fees associated with your business, including TABC fees for small businesses operating on the Mission Trail, retail food establishment permits and fees for businesses located throughout the City, and more! 
Click the links below to read through the ESBRA Policy and fill out the application form.  
Check the following resources to find the local, County or State business licenses and fees that apply to you.
📞 For more information, contact Jose Quinonez, Economic Recovery Coordinator at 915-858-2915 extension 5016
Texas Travel Industry Recovery Grant Program 
The Texas Travel Industry Recovery Grant Program is NOW TAKING APPLICATIONS! Approximately $180 million in funding is available for applicants in the travel and tourism industries. Eligible applicants may receive a one-time grant of up to $20,000. 
Who is eligible to apply? Businesses in the following industries: arts, entertainment, and recreation; food services and drinking places; traveler accommodation; RV parks and recreational camps; traveler arrangement and reservation services; convention and tradeshow organizers; breweries; wineries; and distilleries. 
Head to the TTIR Portal by clicking below, learn about the program, and apply as soon as possible. 
Upcoming events - Small business meetings, networking, and Training
Interested in starting or growing a small business in Socorro? The Economic Recovery Office coordinates monthly Small Business Support Meetings, networking events, and small business training events. 
The goal of our small business events is to share relevant business news, services, programs, loans or grants and build a small business support network in Socorro, Texas. 
Check below for the next meeting and training dates, times and locations. 
Socorro business newsletter
Sign up to receive news about new small business programs, grants or loans directly to your inbox. Unsubscribe at anytime.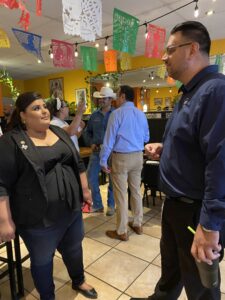 Socorro small businesses network with resource partners and local officials ...
Read More
Economic Recovery resources