901 N. Rio Vista Rd.
Socorro TX. 79927
Office Phone: 915-860-8615
Monday – Friday
8:00 AM – 5:00 PM
The City of Socorro's Media and Communications are coordinated by a team of staff members from various departments and a public information officer (PIO) who serve as the liaisons between the City and the media. The Media and Communications team is responsible for the innovation, broadcasting, & distribution of information to our community through traditional and emerging media platforms. The City of Socorro will manage and share their information for public and made accessible to the public by the City's official website, social media accounts, & campaigns.  The City's Communication Team is also responsible for capturing photography/videography at City Events, public relations, marketing & branding.
To collaborate with our citizens in order to provide outstanding municipal services and utilize forward-thinking ideas to generate the highest possible quality of living. By combining honesty and integrity continue to provide a safe and unique community for all current and future residents.
Public Information Officer's Staff
The Communication Team aims to bridge the gap between the City & our community members throughout the year as concerns develop in the City of Socorro.  The Team coordinates with other departments and outside agencies to provide highly effective and  proficient responses to support the City. With collaboration from our residents we can create a holistic, diverse and inclusive methodology of communication to keep residents informed and empowered.  
Interested in a career in PR and Communications? Fill out our intern application here.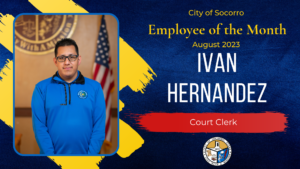 Help us congratulate our Employee of the Month for August!...
Read More
The City of Socorro has amazing staff who live their job and make a difference in the community, however every now and then they tend to go the extra mile. If you feel your experience with a staff member was higher than the gold standard let us know and nominate them for a municipal commendation.

Socorro residents are the best residents! They are the lifeblood to everything that goes on here and continue to make our community thrive.  We appreciate all that they do in dedicating their time,  energy,  and resources to making our City a better place.  However, have you seen someone moving and shaking around town just that much more- then nominating them for a constituent spotlight award and tell us why they deserve an extra shout out. 
The City of Socorro is seeking your input as a resident of Socorro.  Your input will help the City in developing a list of important priorities and projects for Housing and Community Development.