124 S. Horizon Blvd.
Socorro, TX 79927
Office Phone: (915) 858-2915
Fax: (915) 221-7511
To collaborate with our citizens in order to provide outstanding municipal services and utilize forward-thinking ideas to generate the highest possible quality of living. By combining honesty and integrity continue to provide a safe and unique community for all current and future residents.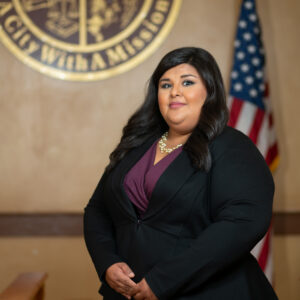 Ivy Avalos

Mayor
Mayor Avalos is proud to represent the community of Socorro. Elected in December 2020, Mayor Avalos has met with local businesses, community members, and school administrators, to listen to their concerns and address urgent issues facing the community.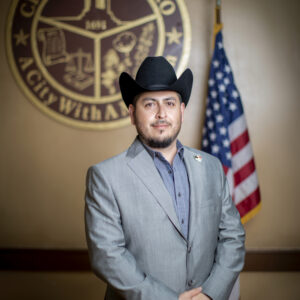 Ruben reyes

at-large representative
At-large Representative Ruben Reyes represents the Socorro community as a whole. Elected in December 2020, Mr. Reyes has brought forth important items such as street lighting, infrastructure improvements, and more.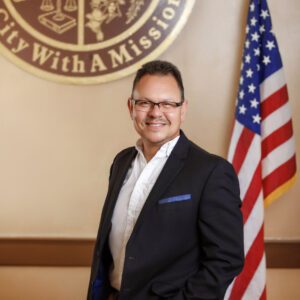 Cesar Nevarez

District 1 Representative
Representative for District 1, and a native resident of this city, I truly believe that Socorro has the potential for transfiguration. Priorities include social equality, shared prosperity, city growth, and public safety for the community. My services at the City of Socorro, initiated as City Commissioner, for Civil Services and Planning and Zoning from 2015-2017. Being a Socorro High School graduate, and long-time resident, has helped cultivate my interest in community service. As Representative for District 1, I feel honored to have been chosen worthy of assisting in transforming Socorro to a greater characterized City.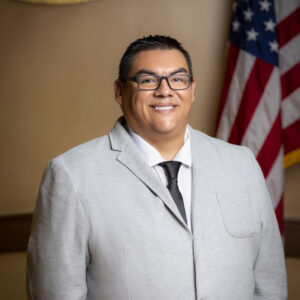 Alejandro Garcia

District 2 Representative / Mayor Pro Tem
Representative Garcia has served as a part of the City Council over the past 10 years and was most recently elected to represent District 2 in December of 2021. Mr. Garcia is a proud educator and is passionate about quality of life, sports & recreation, and giving back to the Socorro community.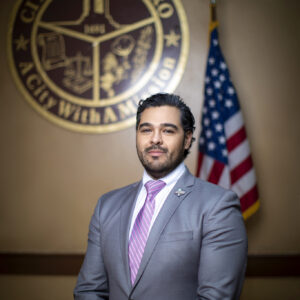 Rudy Cruz Jr

District 3 Representative
Prior to joining the Socorro City Council, Rudy Cruz Jr. was the General Manager for Tigua Inc.'s Facility Services subsidiary in the federal government contracting sector. In 2018, Rudy Cruz Jr. was the Small Business Development Specialist at the Ysleta del Sur Pueblo's Economic Development Department. Rudy assisted small Tribal Businesses to gain access to funding, prepare their business for the commercial sector and develop marketing strategies that stood out from the rest. Before that he served the State of Texas by providing public safety, and assisting victims of crime for the Texas Department of Criminal Justice.

He followed in his father's footsteps as he was also previously in the commercial business industry since a very young age as the Operations Manager for Sun City Installations, one of the first Tribal Owned Small Businesses in the west Texas region for 7 years. In year one as Operations Manager, Rudy procured close to $5M in government contracts alone for the small business. Rudy has built relationships at all levels of government, establishing a strong business platform of partners.

Rudy was elected to serve on the Tribal Council in 2014 for Ysleta del Sur Pueblo. The Tribal Council is the duly constituted traditional governing body of Ysleta del Sur Pueblo, A federally recognized Indian Tribe, exercising all inherent governmental power, fiscal authority and tribal sovereignty.

Rudy is impassioned about strategizing community and economic growth for the community of Socorro. He assisted in the establishment of national, local and commercial contracts which included maintenance and operations of federal buildings and U.S. land ports of entry. This position also entailed the oversight and growth of other contractual services such as the contract to provide the Sargent Major's Academy training and certifications on Ft. Bliss.

Rudy has played a key role in the continued development of relationships that helped grow business and strategies to respond to an increasingly demanding marketplace. In addition to working federal contracts, as a Representative for Socorro, Mr. Cruz is looking for ways to prevent economic leakage and find sustainable jobs for its residents.

In 2020 Rudy was the recipient of the 40 under 40 Award. The National Center for American Indian Enterprise Development selects 40 American Indians, Alaskan Native and Native Hawaiian leaders under the age of 40 for their leadership, initiative, dedication and for making significant contributions in business and or in their community.

In his quest to serve the community, Rudy plans to develop a multi-faceted plan that hinges on identifying all that the City of Socorro has to offer while raising the voice of locally-owned businesses.

As a graduate of Socorro High School and lifelong resident of Socorro, Rudy understands the challenges we face as a city and is fully committed to working diligently to establish a better quality of life for the residents of Socorro.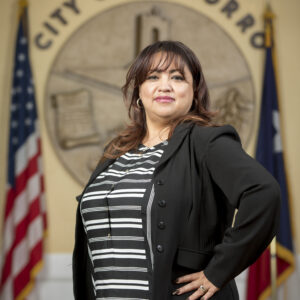 Yvonne Colon-Villalobos

District 4 Representative
I moved to Socorro, Texas in 2003 soon after obtaining a Real Estate license. As an Independent Realtor I have managed 200 plus realtors, provided superb customer service to my clients and highly respected in my field. Now as your District 4 representative, I will bring these same principals. God and my family are my number one priority. Serving my community is a calling I am proud of, which goes hand in hand with my caring nature. Serving with integrity and respect will be my legacy a legacy Socorro constituents can be proud of. Immensely Grateful the Good Lord has chosen me to help lead this great city into the best future ever.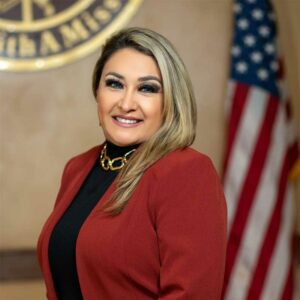 Adriana Rodarte

City Manager
Adriana Rodarte is a native resident of the City of Socorro, having attended H.D. Hilley Elementary, Socorro Middle School, and graduated from Socorro High School; (Class of 1995 – Go Bulldogs!) before attending the University of Phoenix for her Baccalaureate and Master's Degrees in Business Administration. A proud mother of two, the children both were born and raised in Socorro carrying on the tradition she set forth and graduating alma mater: Socorro High School.

Ms. Rodarte is an executive-level strategist and project manager in the private and public sectors. Holding a track record of successfully advancing high-profile and complex projects, that reflects from her credits working collaboratively with government and private sector stakeholders. Her broad experience managing policy development and public relations in dynamic environments; Has led to extensive oversight in professional and technical disciplines, combined with the ability to manage multiple functions with a passion for innovation and improving organizational effectiveness.

In April 2015, Ms. Rodarte was unanimously appointed as the Interim City Manager of Socorro, Texas, by City Council. In March of 2016, she received a unanimous appointment by City Council for her first official two-year term as City Manager. In 2020, the constituents voted in favor of changing the City Manager's contract from a two-year to a four-year term, where Ms. Rodarte received the first-ever four-year term as a City Manager in January of 2021- unanimously again. Ms. Rodarte is responsible for the City's day-to-day operations, applies tactical direction, implements council policies, and coordinates community issues in a city with a 23.6 million budget. Some significant accomplishments during her tenure as Socorro City Manager include: • Nurtured exponential growth in population in the expanding East County El Paso Metropolitan Area. • Administering Bond Propositions, including the execution of stormwater drainage infrastructure for the Sparks Arroyo Grant Project Phase I, II, and currently ongoing Phase III. • Implementation of the Tax Increment Reinvestment Zone (TIRZ) in which the Socorro Logistic Center is being constructed early 2022. • The Rio Vista Community Center revitalization and historic preservation capital rehabilitation project. • The inception of the Socorro Police Department. The high growth rate of Socorro, increasing contract costs, and the ability to manage its law enforcement agency were factors in the City deciding to implement its department.

She previously held the Human Resources Director position with the City of Socorro, Texas (2013-2015). During her tenure as the Human Resources Director, she was responsible for coordinating:

• Re-Vamping the employee Handbook.

• Introducing an Employee Assistance Program

• Increasing participation in the employee's deferred compensation program

• Introduced the first-ever merit-based step increases for staff

• Increased multi-department interaction and collaboration

• Provided supervisory education and training to staff with an overall effect of decreased liability claims and employee grievances against the City.

Ms. Rodarte holds several educational and professional certifications, as well as active memberships in municipal and civic organizations, including:

• President of the Socorro Community Initiative

• Voting Member of the Office of Emergency Management Local Emergency Planning Committee

• Park University- Art of Communication Certificate

• Texas Municipal League Supervisor Fellowship

• Member of the National Public Employer Relations Association

• Investment Officer to the Socorro Public Finance of the Investment Board

• Civilian Emergency Response Team Certified

• FEMA Certified: NIMS, Disaster Accounting,

The City of Socorro is a home-ruled municipality operating under a Council-Manager form of government in Far West Texas.

Deeply Rooted in her home daily life as a proud Socorroan; she enjoys grilling on the weekend spending time with her family. Her community spirit, "Know they neighbor" mentality, and all the City's growth enriches her enthusiasm to see what the future holds for the City of Socorro.

She wants the public to know the most crucial aspect: "My door is always open for you!".
The City Council is the legislative policy-making body of the City. Council members:
Approve the annual budget
Approve contracts
Adopt regulatory ordinances and resolutions
Determine the tax rate
Provide direction to the City Manager and other Council appointees

And provide a forum for active community participation in setting and achieving City policies, goals and objectives
Voters of the City of Socorro elect the Mayor and City Council members. The Socorro City Council is composed of four City Council members elected by districts, one At-Large member and the Mayor, who is elected at large. City Council members serve staggered 4 year terms, current term information is as follows:
Not sure who represents you at the state and federal level? Follow the link below, input your address, and find out which Texas and U.S. elected officials represent you.